COPIES OF THE RED QUEEN ARE HERE FOR THE READING ROCKS!!
Well, I must apologize to the few or no people that read our posts. There was a brilliant, informative, and hilarious post about last week's hugely successful Reading Rocks meeting, and it has disappeared from the interwebs! The library is in mourning for this loss, but will endeavor to re-create at least the informative parts.
The last Reading Rocks meeting of the year was a bittersweet event, although you'd never know it from the raucous guffawing of some of the attendees.  We were trying really hard to talk about Hyperbole and a half by the genius Allie Brosh, with mixed success.  Some of the Rocks were talking about when Allie had her oral surgery and then went to a party after shaming her mother into taking her, some were in a deep discussion about the value of a lonesome piece of corn to a disturbed mind, and others had a doughnut and left.
Then we talked about Life Sucks by Jessica Abel.  You should really check out her website, she is a wonderful advocate for writers and artist.  Some people thought the idea of a vampire convenience store clerk was fascinating, others thought that the whole vampire thing in YA literature is overdone, some thought it was confusing,  others had a doughnut and left.
Emily came and told us about some things!  She said there's a book called To be or not to be: a choosable path adventure by Ryan North, Shakespeare, and YOU!  There is also a book called Adulthood is a Myth by Sarah Anderson.  It's a true story.  So far.
Seek out Teen Gaming night on May 26th, and join the public library's Goodreads teen book club, the book for June is Civil War, so, yeah, you should do that.
Also there will probably be some kind of summer reading thing at the public library, so I would encourage all Rocks to seek out that fabulousness and maybe get a prize beyond the reward of just being well read.
To all the wonderful Reading Rocks, the party is Wednesday after school, hope you can make it!
Having finished the conversation about the unusual and intriguing The rest of us just live here, the Reading Rocks are poised to end the school year on a decidedly high note with the two graphic books, Hyperbole and a Half by Allie Brosh and Life Sucks by Jessica Abel.  When I say high note, I mean things like this:
and this:
so, yeah, more fun and maybe a little less angst, or at least a different kind of angst than we are generally used to…
Please keep the afternoon of May 25th open for our end of year celebration, we'll be in the library after school until 5:30ish, so if you're a Reading Rock, or even a FORMER Rock, come and eat some food and look at a movie with us!  We'll probably try to get "It's kind of a funny story," since it's got Zach Galifianakis and, perhaps more importantly, the Rocks read that awesome book by Ned Vizzini this year and had arguably some of our best discussions about it.
Join us at our last meeting of the year on May 12th at 7:45 in the library, I think you know why.  Especially if you read.
First of all, before I get distracted…
HAPPY NATIONAL LIBRARY WEEK FROM MR. TRAYLOR!
Now on to the great book club meeting we had this morning centered loosely on The rest of us just live here by Patrick Ness, with a little bit of "Suicide Squad" trailer discussion, some good news and book talking from Emily, and of course the usual asides from our friends Hope and Gabe who are welcome at all times in the library but especially at book club.  Oh, and the end of year planning stuff.
This is a book that elicits some strong responses!  It was weirdly more controversial in the Rock group that even Two boys kissing, which really kind of surprised me.  I guess we started out with one expectation, then read the book, and came out with something completely different.  Kind of like expecting a caramel apple and some jerk gave you a caramel onion.  Some of us didn't like the idea, but others embraced the onion for Shrek-like reasons (layers!) and went ahead and ate the whole stinky thing.  In summation, for now, it was a great discussion and another reason the library is arguably the best place to be every other Thursday at 7:45 AM.  Since some of our Reading Rocks have yet to finish the book, we will continue the discussion on April 28th, when hopefully we'll also have copies available of our last title of the year!
Emily talked to us about "After High School" night at the public library on April 21st at 6:00 PM, sounds like a great opportunity to hear about what to expect when you finally escape Rocky.  Whether you want to get more education or not, you can learn more about the choices you have and get some positive spin on life as a "grown up."
Of course she also brought some great book recommendations:
Neurocomic, which will be ordered for the Rocky Library very soon…and
Dinosaur comics: Your whole family is made out of meat which I will read obsessively over the summer, probably.
The Rocks decided after some deliberation to have our end of year party on Wednesday, May 25th after school until 5:30 in the Rocky library!  Those of you that have attended at least one book club meeting this school year will be receiving invitations to the (as yet unplanned) festivities.
One more time, HAPPY NATIONAL LIBRARY DAY and don't let the picture of what high school librarianship looks like keep you out of the library…
Though the photo here seems a bit fuzzy, in reality the photo is crisp and sharp–it's just that the world was fuzzy back in 1966.
Well, this is embarrassing. After having looked at some Reading Rocks meeting statistics, a disturbing anomaly emerged.  Admittedly, the library's math skills are not optimal, but it looks like there have been a total of 292 Reading Rocks attendees so far this year, and figuring that we've had 24 doughnuts per meeting, having had a total of 11 meetings, that makes 264 total delicious Southpark Bakery Doughnuts.  The library humbly apologizes to the 28 book club faithful that came to a meeting expecting nourishment along with scintillating bookish conversation only to be met with a box full of only air and disappointment.  You are the heroes of book club, our champions, our idols, your sacrifice will not be in vain! We vow, from this day forward, to work tirelessly to provide at least one doughnut for each and every Reading Rock that attends a meeting for the rest of this school year!  See you Thursday, you brave, brave READING ROCKS!
One of my favorite things about book club is…ALUMNI VISITS FROM OREGON!  One of our original rocks, now a highly successful Reed College student, came to our meeting.  We are humbled, awed and humbled by our Chance encounter.  And we're really glad he was not harmed by the aggressive hugging.
Since our last meeting there have been several events related to reading and rocks that have unfortunately gone unrecorded.  But here's a really awesome blog you should read!
The books read by the rocks have increased by THREE, The Martian, Two Boys Kissing, and I'll Give You the Sun have all been read by many, if not all, of the resident Rocks.  Many dozens of doughnuts have been consumed, and a few bananas this week because our favorite doughnut joint went on VACATION. The nerve.  But maybe we will appreciate the deliciousness of Leo's Southpark Bakery even more when we return to our regularly scheduled two dozen assorteds on January 21st.
Our three books in a nutshell:
A NASA botanist struggles to survive on a hostile planet with the help of duct tape and his own amazing nerd power.
Two boys attempt to break the Guinness record for longest kiss while a transgender boy starts a romance and another guy accidentally comes out to his surprised parents and meets a potential love interest online and tries to decide if he wants to live and a host of witnesses (spirits of gay men that have moved on) narrates the action.
Twins at 13, 14, and 16 years old tell the story of their artistic and love lives before and after their mother dies in a tragic accident and before and after they are accepted or not into a prestigious art high school.
So…our next book is The 5th Wave by Rick Yancey, he of the marvelous Monstrumologist "intellectual horror" series.
JOIN US ON THE 21ST, BECAUSE IF YOU READ YOU ARE A READING ROCK!
Comments Off on I'll give you…a very late post
The Reading Rocks wrap up a fabulous first quarter having read and hashed and rehashed another Rainbow Rowell masterpiece, this time the triumphant chronicle of a young woman's quest to conquer her freshman college fears of twin separation, roommate weirdness and worry about her bipolar single dad, while penning the best fanfiction ever.  No small feat, but Cath accomplishes it with aplomb and, surprise surprise, somehow acquires a rancher boyfriend with a reading disability in the process.  Needless to say, but we went ahead and said it anyway, Fangirl resonated deeply with most of the Rocks, even the few of them that don't write fan fiction!
Speaking of writing, September was enhanced dramatically by the wonderful Simone Elkeles, who was gracious enough to join the Reading Rocks for a pizza lunch before wowing us with an awesome presentation in the auditorium.  Ms. Elkeles talked to the Rocks about publishing their work and generally was just very kind and open and encouraging!
If you've read this far, you may be interested to know that the Reading Rocks now have a facebook page (managed by a facebook challenged library aide) and a GOFUNDME site!
Here is the link to the Reading Rock's Go Fund Me site!  Tell all your friends!  Especially your friends with disposable income who want to support the  high school book club!
Also, Emily wants to tell you this: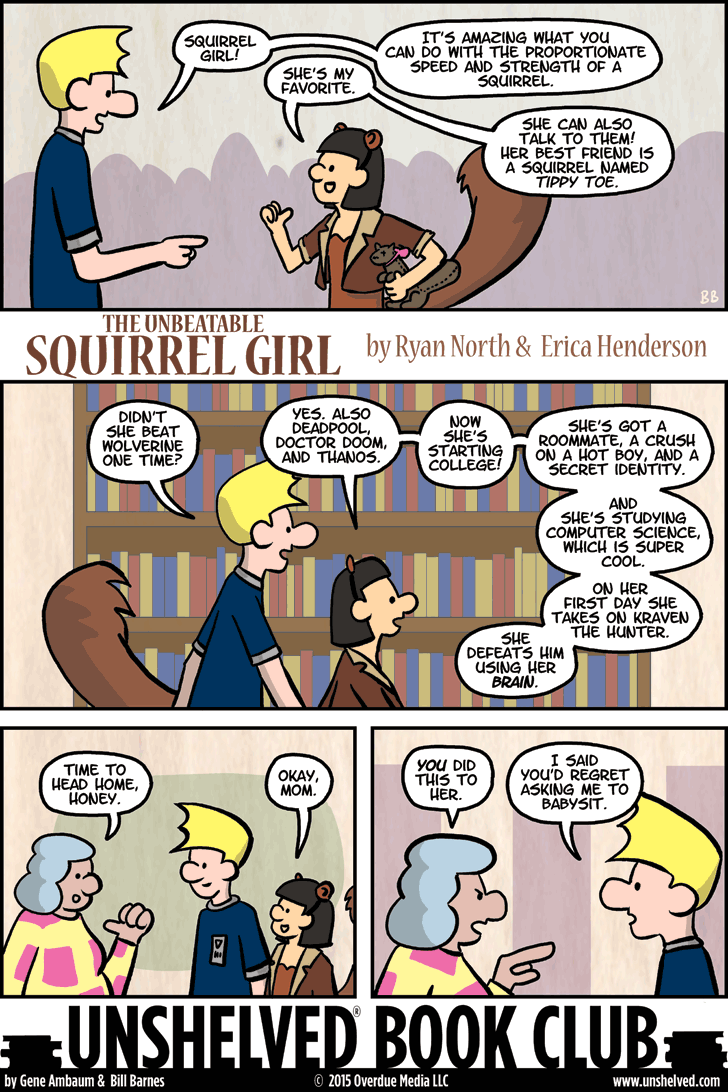 Comments Off on The end of September and the beginning of the rest of your reading life
Well, since our last conversation, constant reader, there have been two colossal Reading Rocks meetings.  The first, on August 13th, was HUGE!  Emily counted 42 students!  We voted on what to read next and chose another Rainbow Rowell masterpiece, Fangirl!  Unfortunately we are having a difficult time getting enough copies for everyone, so when you finish it, return it for the next Rock, ok?  This is known in the library biz as circulation.  But you already knew that…
In other news…the Rocks have voted on the next two titles to read!  The Martian by Andy Weir, soon to be a major motion picture, and might I just say thank you so much to the Reading Rocks for choosing a book that your sponsor has not only already read, but is a colossal fan of and have been telling people for two years to please read it because it is amazing.
Two Boys Kissing, which I have not read, but feel very confident about due to its author, the reliable and gifted David Levithan, and many many recomendations from you, the student body.
Also brought up during the two meetings:
Student representatives!  A hardy few signed up to help plan fun activities and be the face of the Reading Rocks to RIHS, thank you!
Author Visit!  Simone Elkeles will be HERE AT ROCKY on September 16th, and the Reading Rocks will be joining her for a pizza lunch in the library!  If you haven't signed up yet, see one of your friendly library staff to get on the list!
T-shirt design!  We have a design, next we have to figure out the logistics of having it printed…
BOOKS TO READ!  Recomendations from our magnificent YA liason as well as YOU, the Rocks…
Beyond the Body Farm by Dr. Bill Bass, sounds gross and forensic, my favorite!
Percy Jackson's Greek Heroes and Percy Jackson's Greek Gods by Rick Riordan, of course!
Seconds by Bryan Lee O'Malley, a graphic with no flying and no tights, just mushrooms, a witch pot, and a little dose of magic.
See you next week in the library, because if you read, you are a READING ROCK!